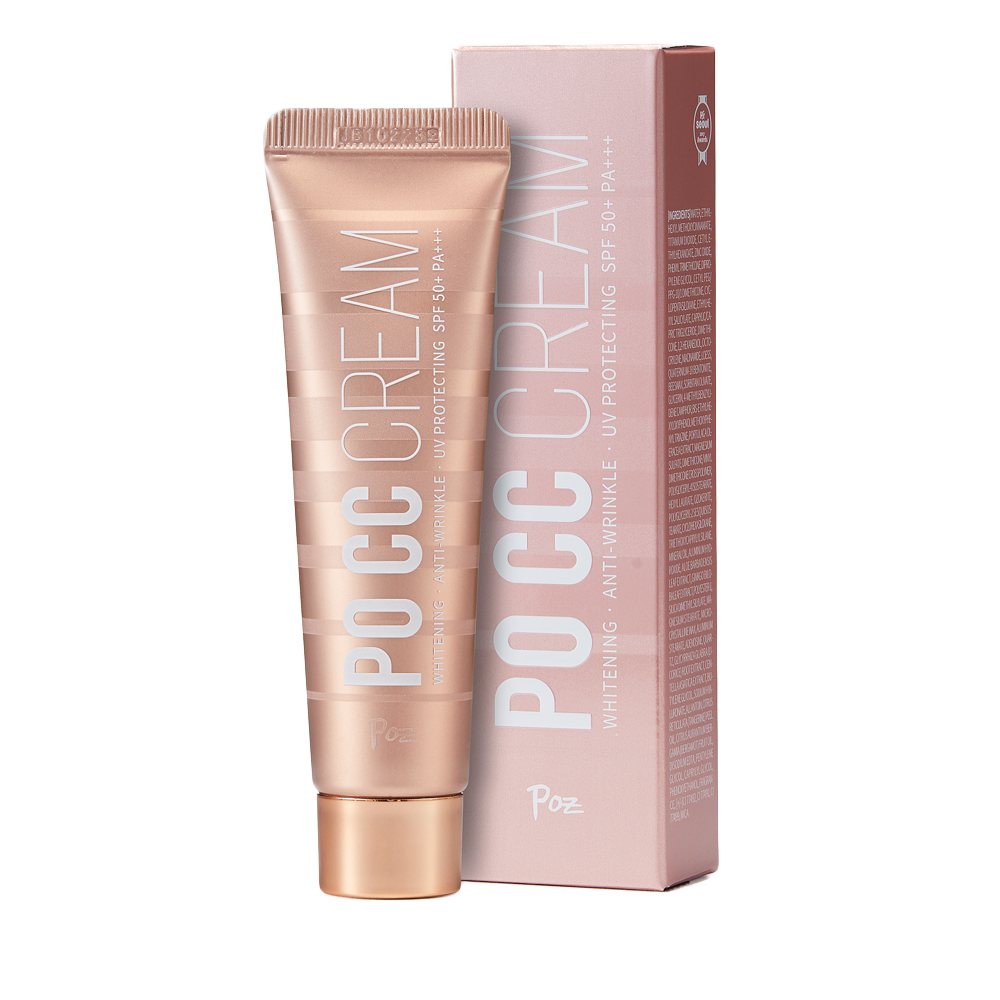 POZ PO CC Cream Mini Perfect

Spreadability gives it a soft, uniform skin tone and cover imperfections, CC cream, which produced a clean and clear skin. Anti-wrinkle + whitening + sun screen(SPF50+ PA+++) Natural Mineral Cream

Product Color
1. 21 shade - Light Beige
2. 23 shade - Natural Beige

Capacity : 30g

PRODUCT DETAIL
01. Multi-function completed as a single
Whitening the makeup function, anti-wrinkle, sunscreen, skin rejuvenation, moisturizing, shiny, multi-functional cream that satisfies both singly to protect

02. Light fittings to be in close contact with the skin
This is a rich moisturizing skin contact without fills the Water lifting, excellent coverage, even in the makeup of the excellent durability to light a single ply

03. This color change toktok capsules
If the capsule comes into contact with skin color and natural skin toktok burst representation for my skin! Swank brins deep faint sheen gives your face turns bright color tone to help the skin whitening!

04. Exclusion skin irritating ingredients
CC hypoallergenic cream that can also be used to exclude believe the 10 ingredients that can cause irritation for sensitive skin.

05. Skin breathe a mystery ingredients of the gelite
About one million year ago it created an eco-friendly bio-materials. This helps the gelite sufficient supply of oxygen to the skin to emit far infrared rays and anions excellent anti-aging action helps to strengthen skin regeneration.

POZ PO CC CREAM MINI PERFECT

Fades Wrinkles
Prevents Skin aging and wrinkles
Ingredients - Adenosine

Skin Brightening
Clear the skin and improve skin tone
Ingredients - Niacinamide

Blocks UVs
Prevents Pigmentation caused by sunlight and skin aging, Blocks UV A, B / SPF 50+
⭐ Fades Wrinkles
⭐ Brightens the skin
⭐ Blocks UVs
⭐ Restore the skin
⭐ Hydrated and Glowy skin
⭐ Glowy skin Protects the skin

Red, Yellow and Black Capsules in harmony with white base give you the perfect luminous skin tone.

No harmful ingredients that is irritating to the skin.
Paraben / Talc Alcohol / SusntheticColoranls / TEA Dioxane / MEA / DEA / Phthalates / Formaldehyde

Recommend POZ CC CREAM
⭐ For those who want to have a quick makeup
⭐ For those who have a dull complexion
⭐ For those who want a make-up with ultra-staying power and high coverage
⭐ For those who have difficulty in blending in makeup on their face.
⭐ For those who want a dewy makeup
⭐ For those who have sensitive skin
⭐ For those whose pores and wrinkles look bigger after make-up.
⭐ For those who wants a natural-looking skin make-up

HOW TO USE
01. After washing your face, follow up with your usual skin-care routines.
02. Open the lid and then twist the lid in the direction of the arrow symbol
03. Spread it all over the face with a sponge or brush after lightly apply a tiny amount of the cream on your fore and nose and cheek and jaw.
04. If you want stronger coverage and a concealer effect, apply it once more.